Participation in an intensive, online international math competition has added up to a first-place win for a group of Virginia high school students.
The team of five 11th and 12th graders from Thomas Jefferson High School for Science and Technology in Alexandria took home the top prize of $20,000 in college scholarships, out of a total of more than $100,000 awarded, after being chosen as winners during the final event in New York City on April 24. Thousands of high school juniors and seniors across the U.S. and sixth form students in the U.K. vied for distinction in this year's MathWorks Math Modeling Challenge (M3 Challenge), a prestigious competition that demonstrates the importance of math in everyday life.
Winners Rishabh Chhabra, Om Gole, Rishabh Prabhu, Jerry Sheng, and Laura Zhang were among nearly 3,000 students working in 650 teams who participated in this year's M3 Challenge.
Now in its 18th year, the 2023 M3 Challenge saw students spend 14 consecutive hours in early March using mathematical modeling to solve a real-world problem by collecting data and creating models, developing insight on the problem, and submitting their solutions online. This year's competition asked students to use math modeling to predict the growth of e-bike use and its impact on society and other modes of transportation. Eight finalist teams were selected from across the U.S., England, and Wales, after having their submissions judged by an international panel of Ph.D.-level mathematicians.
A program of Philadelphia-based Society for Industrial and Applied Mathematics (SIAM) and sponsored by MathWorks, the leading developer of mathematical computing software for engineers and scientists, M3 Challenge is designed to spotlight the relevancy and power of mathematics in solving real-world issues, as well as motivate students to consider further education and careers in applied mathematics, computational and data sciences, and technical computing.
"What sets M3 Challenge apart from other math competitions is that it uniquely requires students to use math modeling as a process to represent, analyze, make predictions and provide insight into current phenomena," said Dr. Karen Bliss, Senior Manager of Education and Outreach at SIAM. "We pose big problems about real issues that many students may not know much about. They need to research, quantify the parameters, organize data, and use skills they've learned in math class but may have never related to something real."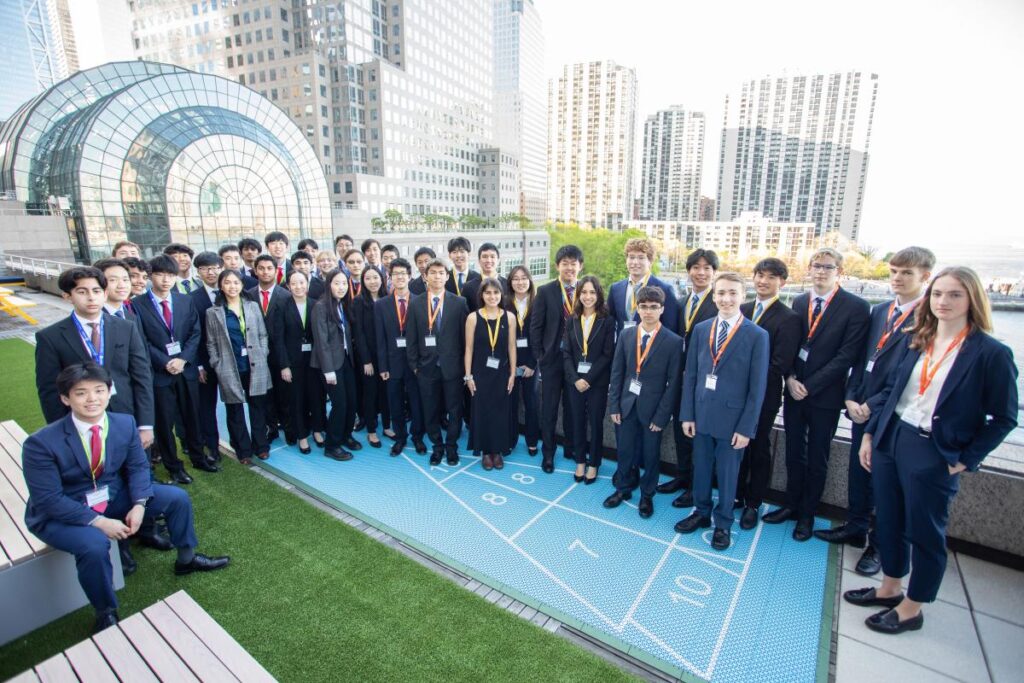 Bliss explained that the international nature of the competition gives added prestige for the winning teams. "Every year without fail, we hear from participating students who refer to their participation in M3 Challenge as a life-changing experience that helped open their eyes to how important, useful, and valuable the application of mathematics can be," she said.
Runners-up in the competition are Houston, Texas-based St. John's High School students Ananya Das, Caden Juang, Oliver Lin, Ben Lu, and Addison Spiegel, who split a $15,000 scholarship prize. Third place winners are Lincroft, New Jersey-based High Technology High School students Michael Gao, Amanda Guan, Kevin Guan, Amanda Lin, and Kevin Liu, who shared $10,000 in scholarship funds. Finalist teams from Conestoga High School in Berwyn, Pennsylvania, Adlai E Stevenson High School in Lincolnshire, IL, and F.W. Buchholz High School in Gainesville, Florida also received team scholarship prizes of $5,000 each. (See full list of winners.)
The winners were announced following a rigorous, eight-week-long, three-round blind judging process engaging 120 professional applied mathematicians.
Additional recognitions and scholarships were also given, including the Technical Computing Winner prize of $3,000 to the London, England-based Eltham College team; Technical Computing Runner-up prize of $2,000 to the Thomas Jefferson High School for Science and Technology team; and Technical Computing Third Place prize of $1,000 to the Mason, Ohio-based William Mason High School team. These supplementary awards recognize and reward students for their outstanding use of programming to analyze, design, and conceive a solution.
At the conclusion of the team presentations, one team was recognized for exemplary explanation of their work, using clarity, presence, and polish in their live presentations. The Outstanding Communication of Results prize of $500 was also given to the team representing Thomas Jefferson High School for Science and Technology.
"I think it was a really close competition, but when it came down to it, our hard work and rigorous research separated us from the other teams," said Jerry Sheng from the champion team, which was coached by Quinn McFee, a mathematics teacher at Thomas Jefferson High School for Science and Technology. "The fact that this year's focus was related to sustainability was so thrilling to me, as society is moving towards a more environmentally-friendly future, and I was able to combine my passion for biotechnology and math modeling."
According to Coach McFee: "Coming from an industrial math background myself, I am so impressed by my students' accomplishments individually and collaboratively. I've noticed their growth in teamwork after participating in M3 Challenge and that has been a unique benefit for them compared to other math competitions."
The final validation judging panel included professional mathematicians Leyda Almodóvar Velázquez, Ph.D., Stonehill College; Kelly Black, Ph.D., University of Georgia; Cleve Moler, Ph.D., MathWorks; Chris Musco, Ph.D., New York University; and Suzanne Weekes, Ph.D., SIAM.
The entries were narrowed down to six finalists, six semi-finalists, and 22 honorable mentions. Three Technical Computing awards, plus six Technical Computing honorable mention awards, were overlaid on top of any other distinction earned. In total, about 6% of entrants were distinguished with scholarship prizes.
View the 2023 winning solution papers and full list of winning teams.
Watch a short video from the final event and awards ceremony here.
For more information about M3 Challenge, visit m3challenge.siam.org.
About Society for Industrial and Applied Mathematics
Society for Industrial and Applied Mathematics (SIAM), headquartered in Philadelphia, Pennsylvania, is an international society of more than 14,000 individual, academic, and corporate members from 90+ countries. SIAM helps build cooperation between mathematics and the worlds of science and technology to solve real-world problems through publications, conferences, and communities like student chapters, geographic sections, and activity groups. Learn more at siam.org.
About MathWorks
MathWorks is the leading developer of mathematical computing software. MATLAB, the language of engineers and scientists, is a programming environment for algorithm development, data analysis, visualization, and numeric computation. Simulink is a block diagram environment for simulation and Model-Based Design of multidomain and embedded engineering systems. Engineers and scientists worldwide rely on these products to accelerate the pace of discovery, innovation, and development in automotive, aerospace, communications, electronics, industrial automation, and other industries. MATLAB and Simulink are fundamental teaching and research tools in the world's top universities and learning institutions. Founded in 1984, MathWorks employs more than 6,000 people in 34 offices around the world, with headquarters in Natick, Massachusetts, USA. For additional information, visit mathworks.com.
---
Media information or to set up interviews:
GBPR
Tel: 1-877-986-1340
Email: [email protected]